Tuffy FRANCHISE SUPPORT & TRAINING
We are dedicated to the success of your Tuffy franchise and are committed to providing you with world-class support and service based on mutual respect and trust. When you join the Tuffy family, you'll be part of a group of experienced professionals who have extensive marketing, development, operations, and training experience in the after-market auto industry.
The Tuffy team provides all-inclusive support and hands-on training to help our franchisees maximize our proven business model.
PRE-OPENING FRANCHISE DEVELOPMENT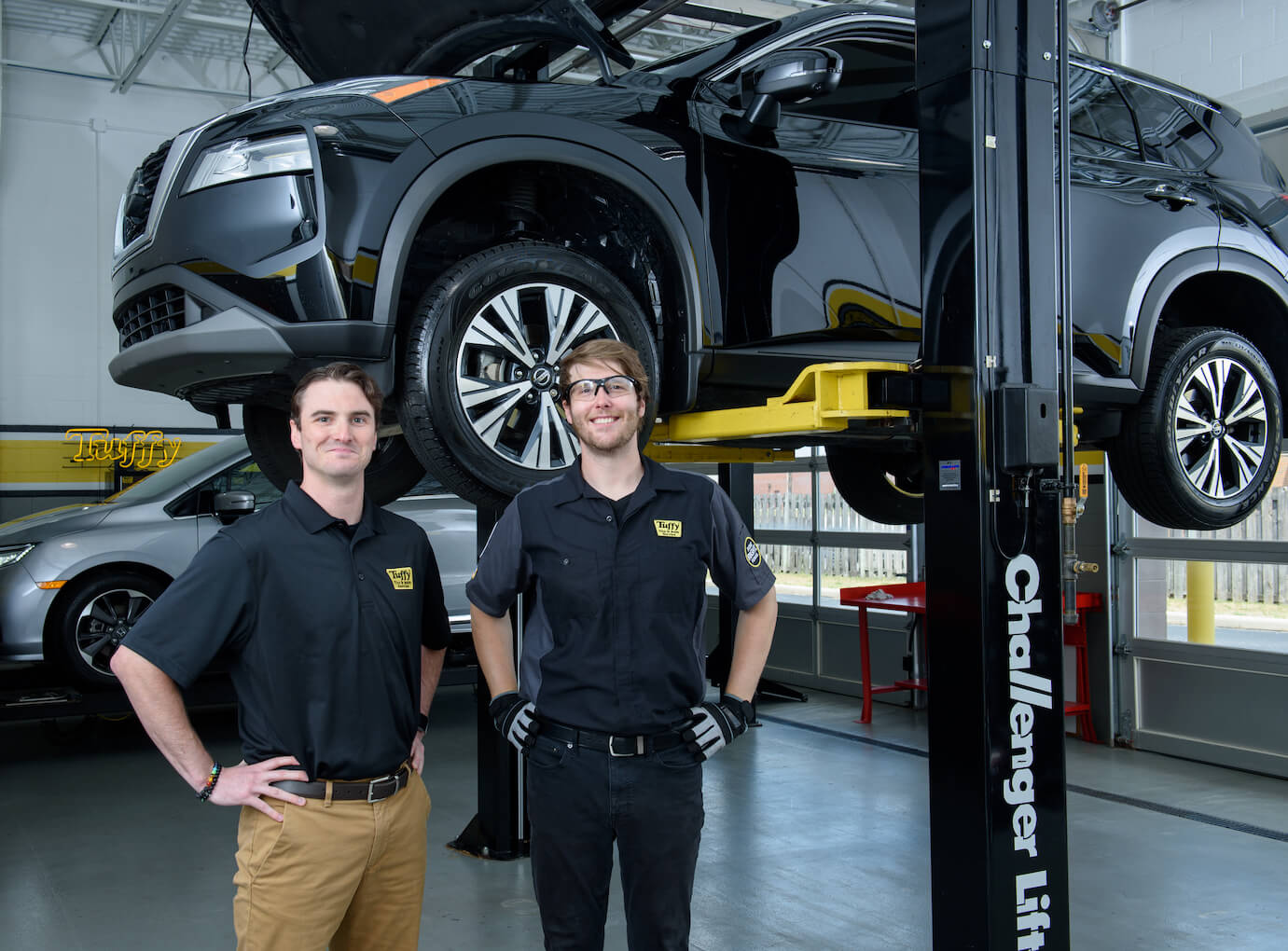 Streamlined development process, easy-to-use tools and an experienced support team dedicated to Tuffy
Site selection, evaluation and analysis by the Tuffy real estate team
Access to equipment suppliers, and other vendors trained and experienced in Tuffy franchise development
Marketing department – initial advertising and marketing campaigns
COMPREHENSIVE TRAINING ON TIRE & AUTO SERVICE
During your initial training at the Tuffy Training Center, you will learn how to operate a successful and profitable Tuffy. The new dealer training program held in Toledo, Ohio is a 2 to 3-week course and is conducted as often as necessary to train the new franchisees. On-the-job training can be conducted in operating centers, including operations, and daily management.
Comprehensive training materials: shop administration, employee recruitment, vehicle inspection, sales techniques, inventory control, fiscal management, and most importantly customer service.
Tuffy University is our web based 24/7 training program. Included in Tuffy University is more than 210 courses designed to enhance the skills of technicians, service advisors, managers and owners. You will have the ability to track training for all employees, design a training path by job type and print certificates of completion by course completed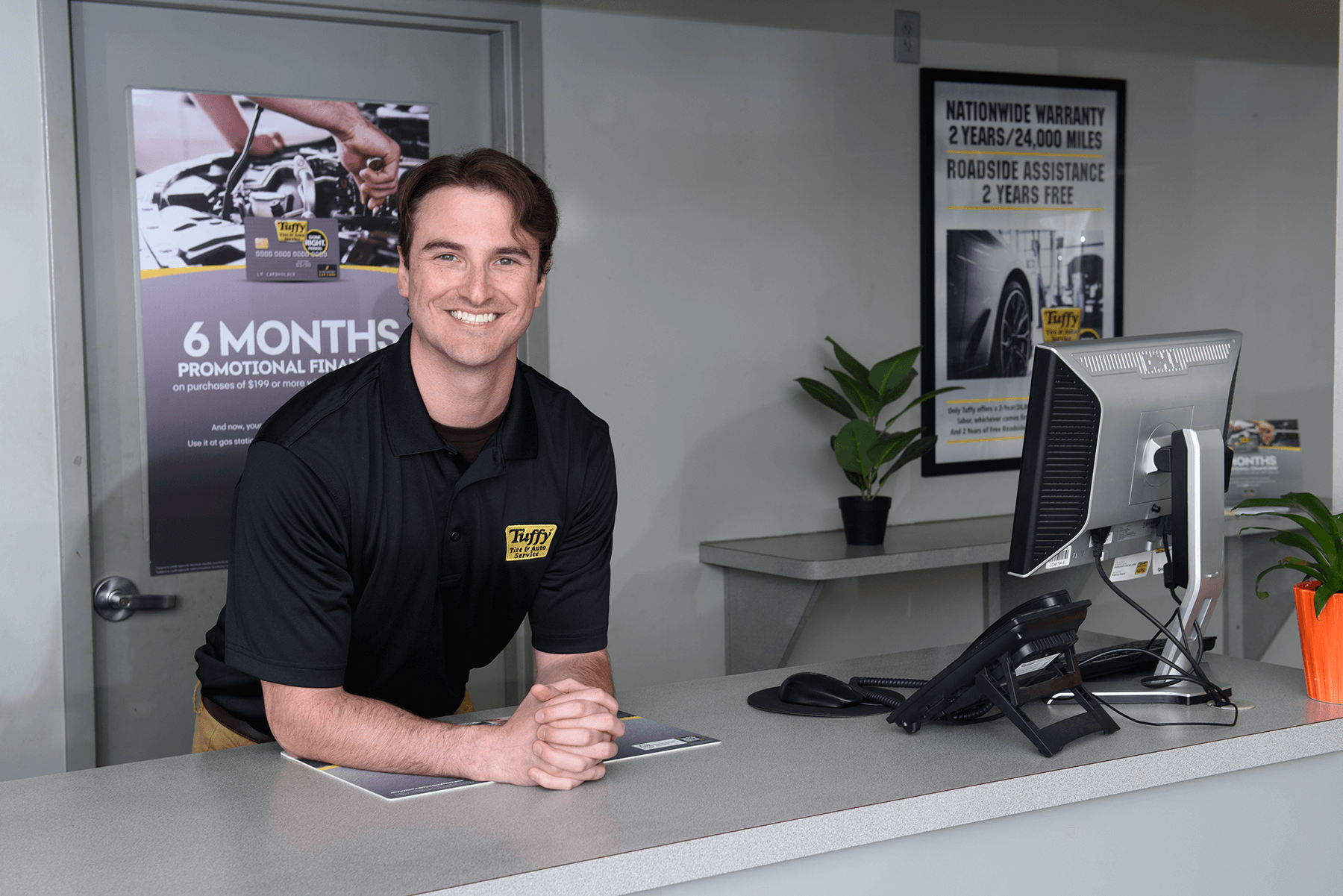 FRANCHISE ADVERTISING & MARKETING
Tuffy gives you a powerful jump start by assisting you in your initial advertising and marketing campaigns. Tuffy's Marketing Department will run a complete media analysis of your market and develops television and radio commercials, newspaper, point-of-sale materials, and special promotions specifically for your shop. These materials and special promotional items are made available whenever media plans and budgets include their use. Tuffy's computerized media capabilities and negotiating expertise assure professional and efficient media placement.
Innovative marketing plans, programs and promotions
High quality merchandising, point of purchase and advertising materials
Seasonal marketing campaigns
Online access to local store marketing ideas and materials
Scheduled visits from Tuffy corporate to assist in local store marketing efforts
In house, creative agency that provides Tuffy franchisees with customizable advertising and branding materials
Fully optimized (SEO) website
ON-GOING SUPPORT
Regular visits from Tuffy's district managers.
As a Tuffy Franchisee you'll have important communication resources available to you. Access to Tuffy representatives for advice during regularly scheduled in-shop meetings and via telephone.
A convenient toll-free technical hotline is also available for day-to-day problem solving.
Access to in-shop and market-wide training sessions, timely product information bulletins, a bi-monthly newsletter, and the annual dealer convention.
Business review analysis of store sales and performance vs. system-wide benchmarks.
Access to operating system manuals.
FRANCHISE ADVISORY COUNCIL TUFFY (FACT)
The function of this committee is to act as a representative of all Tuffy franchisees to establish optimal structured communications and rapport between Tuffy and its franchisees to maximize profits through an open exchange of ideas and constructive action.